This is the second story in a two-part feature about Vote Early Day and Vote for Your LIfe voting initiatives. For the first story, click here.
Daniel "dGon" Gonzales says young gamers are opinionated.
In a democracy, that's an asset, says the VENN video game personality who is also former team manager of the Golden State Warriors.
"I think there's a positive way to channel that energy into impactful societal responsibilities like voting, especially in an election as important as this one," Gonzales says. "As a community we aren't afraid to let our voices be heard. Let's turn our voices into action at the ballot box."
Gonzales will give the play-by-play during Fall-o'-Ween, a get-out-the-vote gaming tournament to mark the country's first Vote Early Day Eve. Celebrities will play the family-friendly Fall Guys game during a five-hour live broadcast on VENN's Twitch channel. It is co-hosted by Gamers.Vote and MTV. MTV has been championing voting rights for three decades via its Rock the Vote and Choose or Lose initiatives.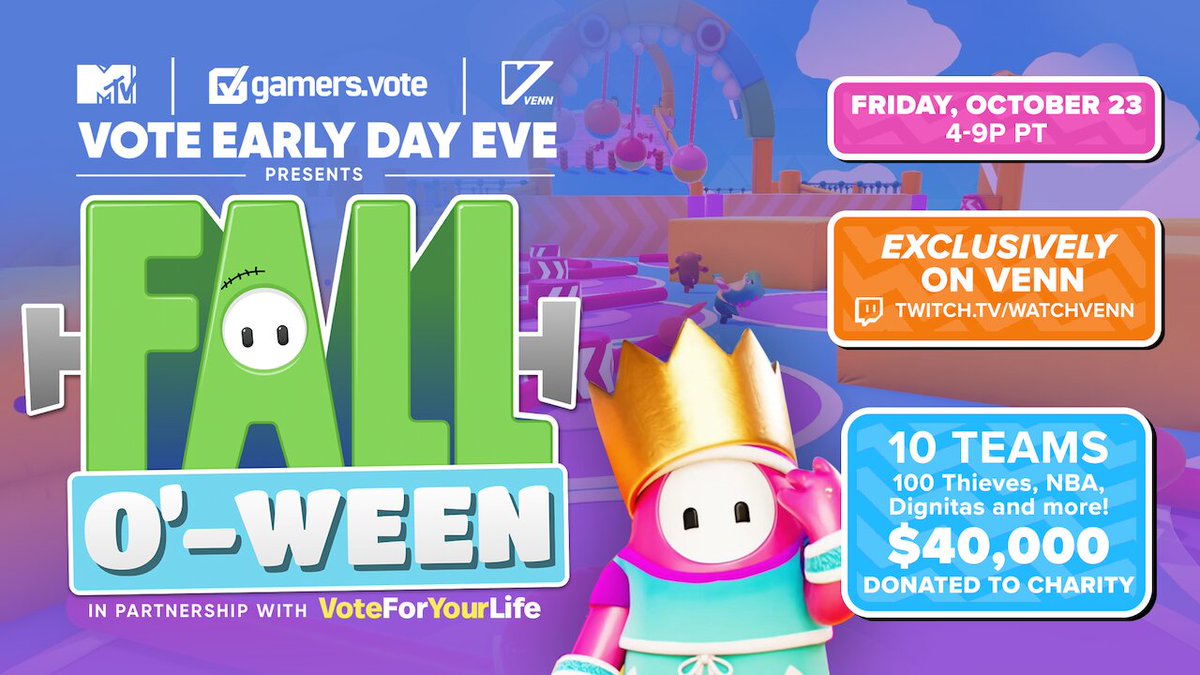 Vote Early
A massive coalition of companies, nonprofits and celebrities is betting on Vote Early events.
"Our biggest priority at the moment is to ensure that October 24 is not only the first-ever Vote Early Day but also a really big milestone on the election calendar," says Max Zorick, senior director of social impact for ViacomCBS's Entertainment and Youth Brands division, which includes MTV, VH1, Pop TV, and Smithsonian Channel. "We're creating an election day 10 days before Election Day. The election is now."
The nonprofit Vote Early Day launched in the spring with some 50 partners. Today, 2,600 organizations, companies and tech platforms are backing the early-voting movement. Major supporters include When We All Vote, HeadCount, Black Girls Vote, NAACP, League of United Latin American Citizens, Patagonia, Levis, Target, Uber, Snapchat, and Twitter, says Vote Early Day Project Director Joey Wozniak.
It's a public-private partnership intent on reversing a downward trend in voting.
"We're working to activate nationally and in 20 cities across the country, like Atlanta, Detroit, New York and Los Angeles. We're going coast to coast and many of [the activities] will lean into pop-up art installations," Zorick says. "Our activations are drawing visibility to young people and first-time voters on how they can be voting early, and what their options are."
Voting Rights
As the American citizenry has grown more diverse, participation in the electoral process has actually declined. Of eligible voters, 60% cast a ballot in the 2016 election, according to the United States Elections Project, run by University of Florida political science professor Michael P. McDonald. 
In the 19th century, when voting was restricted to property-owning white men, 80% of eligible voters cast a ballot in each election. 
"Voters came to the polls in part to socialize with friends, have a free drink (or several), and enjoy the entertainment that parties would provide," write Columbia University Political Science Professor Donald P. Green and Oliver A. McClellan, a Columbia doctoral candidate in political science. "Polling places were deliberately located in areas that were conducive to social activity, such as saloons. The historical record suggests a strategy for increasing turnout. Attract voters to the polls by accentuating the social aspect of civic participation."
Voting rights groups borrowing from the 19th century playbook—albeit loosely and perhaps unwittingly—are on to something. Research by the non-profit Civic Nation indicates that early-voting initiatives increase voter turnout.
"Our analysis of early vote celebrations in Florida, North Carolina, and Tennessee in 2018 found that weekend events held at early voting sites had an even greater effect: raising turnout by about 3.5 percentage points, or 90 votes, per precinct," write Columbia's Green and Civic Nation's Shira Miller. "This much is clear—voting celebrations are among the most cost effective get-out-the-vote tactics available."
Voting from Home
As Americans stay home because of the coronavirus, digital get-out-the-vote content is having a massive impact on voter registration and voting. As of October 21, 40.6 million Americans had cast their votes, representing 86% of all early voting in 2016.
For brand marketers used to engaging Gen Z and Millennial audiences, rocking the vote via technology and social media is not only second nature but also the right thing to do.
"Digital content presents a tremendous opportunity to influence the behavior of our audience, most of whom consume the majority of their media diet from various online platforms," says VENN Co-Founder and Co-CEO Ariel Horn. "Our hosts are able to speak to young people with fluency, credibility and energy."
From Digital Democracy to Physical
Marketers often talk about changing behavior; it can be as innocuous as changing toilet paper brands or asking people to join the U.S. Army.  Here, we're talking about getting young people to go somewhere, safely, possibly stand in line for hours, or put a paper ballot in the mailbox. The jump between digital democracy to physical transference requires clear information and a respectful tone. 
"Our goal is to make sure that every single person in the gaming community that wants to vote has the information they need," says Gamers.Vote CEO Christie St. Martin. "This election is shaping up to have the highest voter turnout in American history. Young, engaged audiences are critical to determining our future."
The Fall-o'-ween five-hour live broadcast is scheduled to begin at 7pm EST Friday. As "dGon" Gonzales casts the event, Chrissy Costanza, lead singer for Against the Current, will serve as host. Players include New Orleans Pelicans forward Josh Hart, musicians from the alt rock band Wallows, web series creator and gamer Felicia Day, and rapper Tee Grizzley. The public will be able to interact with the gamers, in sync with Fall Guys' multiplayer spirit. 
Here is a short list of other digital activations.
Vote Early Day Eve: October 23 Digital Democracy Events  
Twitter. Join a Twitter Convo about Vote Early Day and related voting topics by following @TwitterGov and @VoteEarlyDay. Scheduled to take place throughout the day.
Reddit. An "Ask Me Anything" discussion with Vote Early Day and Commissioner Ben Hovland of the Election Assistance Commission from 1pm – 2 pm ET. 
Vote Early Day: October 24 Digital Democracy Events 
A 12-hour country music video marathon will run on CMT digital channels that features clips from Nashville's own about the importance of voting.
Athleta and theSkimm will lean into the importance of the millennial women's vote with (EM)POWER HOUR. The event will feature actor and activist Sophia Bush ("Chicago P.D."), actor Storm Reid ("Twelve Years a Slave" and "A Wrinkle in Time"), NBC Co-Host Jenna Bush Hager (the daughter of former President George W. Bush), and Peleton instructor Tunde Oyeneyin. 1pm ET.
VOTE WITH US is hosting a rally on live.votewith.us and YouTube featuring performances, appearances and support by Justin Bieber, Lisa Bonet, Common, Mark Ruffalo, and gun-control activists Emma González and David Hogg. 3pm ET.
Know Your Options
Taken together, the digital and physical events reflect the intent to lessen the country's divisive tension. It's the act of voting that counts.
"Like most things, it's important that people know their options before deciding which one works best for them," Wozniak says. "Things are tough right now, and 2020 has presented unique challenges for voters across the country. We want to make the process a little easier for every eligible voter. "
Indeed, every company in the coalition sees its customers as a voting vertical, whether it's gamers or people sporting denim.
Lime, the scooter company, is a quintessential example of digital-meets-physical engagement. For this election cycle, Lime is reducing transportation barriers such as cost, lack of car ownership, and Covid-19-related concerns in cities throughout the country. U.S. riders will be able to use the promotional code LIMETOPOLLS2020 to receive two free rides up to 30 minutes across all vehicles in the Lime app, including JUMP bikes.
Brands and Democracy
"This is the most important election of our lives," Lime CEO Wayne Ting says. "Healthcare, climate change and the future of so many cities we serve are on the ballot in 2020. At Lime, we're focused on doing all we can to encourage our riders to vote."
For Horn, the co-founder of VENN, the MTV partnership reflects how an iconic brand can influence one generation, which goes on to influence another. It's like using the same detergent your mom did, or voting, because you saw people on TV talk about it 20 years ago.
"Growing up, my co-founder Ben Kusin and I were inspired by Choose or Lose on MTV and the way they committed to news as a platform to speak directly to youth around the current events that mattered," Horn says. "Both of us agreed that the driving force behind VENN would be our understanding that gaming isn't a niche anymore. It makes sense that we'd address massive critical issues like this through the lens of gaming."
Image source: Pixabay