"Well, 2020 is here. And, so far, it doesn't look much different than December 2019," quipped a freelance writer as she prepared a list of standard-practice marketing strategies to "win" 2020. Be honest. You felt the same way. Little did we know that lurking just a couple of months down the road, however, was a monumental change. A shift in life as we knew it, including challenges never before experienced in digital marketing, and corresponding marketing lessons.
And that's saying a lot since digital has transformed itself over and over in the past 20 years.
Digital marketing today is a mix of groundbreaking innovations and lessons learned. A balance of ethical dilemmas and shocking successes. How can these marketing lessons from the past help us in 2021? Let's take a look.
Early 2000s: We Grasped Internet Influence
We had just entered Y2K. After realizing that the internet hadn't imploded when the New Year struck, maybe it still held some potential. In his book The Tipping Point, Malcolm Gladwell wrote, "Look at the world around you. It may seem like an immovable, implacable place. It is not. With the slightest push—in just the right place—it can be tipped."
We learned phrases like "influencer" and "stickiness" and started to understand how viral content picks up speed. (Unfortunately, he explained it in terms of an epidemic, but we can forgive him for that).
By 2001, a guru with less hair on his head joined Gladwell at the top: Seth Godin. Godin had just introduced us to permission marketing to harness the conversational, interactive power of the internet with integrity. His marketing ways were undeniably different. He didn't engage on Twitter. He wrote notoriously short blog posts (ignoring Google algorithms).
Godin forced us to ask about relentless digital marketing: "Just because I can, does that mean I should?" Godin explained his premise years later. "Permission marketing is the privilege (not the right) of delivering anticipated, personal and relevant messages to people who actually want to get them."
And then came permission marketing in the form of advertising. Google launched AdSense in March 2003 as a "content-targeted advertising service that extends advertiser reach and makes web pages more useful." It was the first of its kind. Innovative advertising technology, for instance, gauged user response with click-through rates to determine the order in which ads are shown.
AdSense suddenly allowed ads to be relevant and useful by targeting where they appeared, effective "without being flashy" (no pop-ups, for instance), and clearly marked as a "Sponsored Link" to maintain the integrity of searches.
Mid-2000s: We Found Our Voices
By 2002, Gawker Media launched to feed our need for internet gossip. But way out there on the blogging frontier were mommy bloggers. Among them was Heather Armstrong, aka "Dooce," who became the first blogger to be dramatically, publicly fired for discussing her job on her personal blog. The event was a wake-up call for every blogger wanting to live their truth but keep their job. Dooced even became a verb synonymous with being fired for blogging.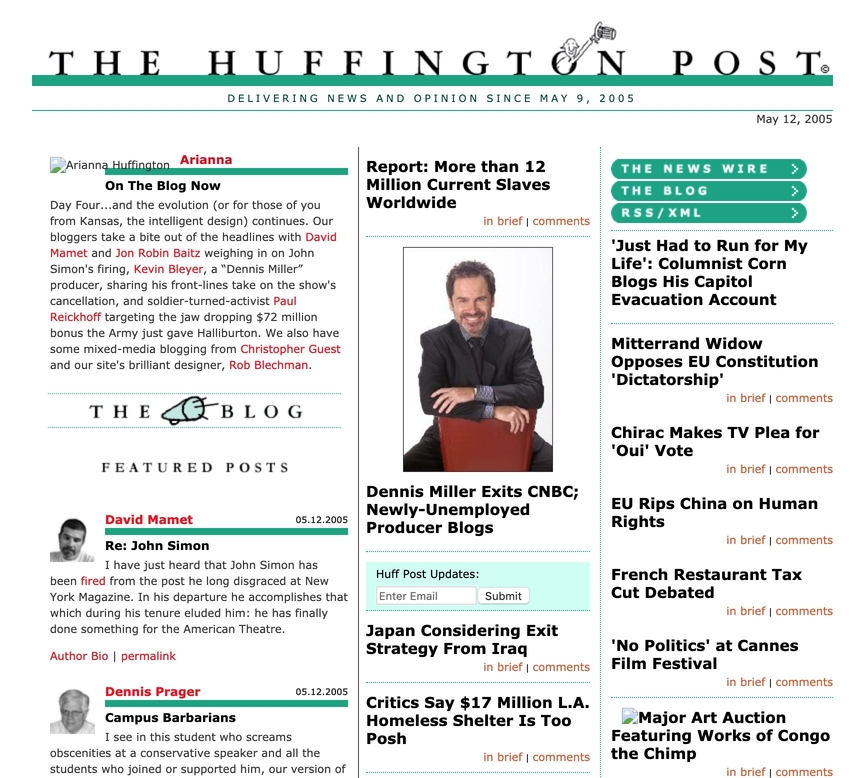 Fast forward to 2005 when The Huffington Post (now HuffPost) launched. It marked the accession of blogs into news media status. "The most fascinating thing is the people who said no to blogging, then subsequently said yes," Arianna Huffington recalled. "I remember Norman Mailer said, 'I can't do it. I can't do anything until I finish my book.' Three months later, there was this scandal of guards at Guantánamo flushing the Koran down the toilet. Norman calls me and says, 'OK, I'll write about that. I'll email you.'"
Also picking up steam 15 years ago were podcasts. "Truly programming by the people, for the people. No big overhead. No censors. And no pesky professional standards to live up to," USA Today declared in 2005. However podcasts were notoriously difficult to access back then. But the "Web-based phenomenon [that] puts the real back in reality programming, emanating not from slick studios but Anyhome USA" was unmasking another way for us to offer content directly to one another.
Late 2000s: We Became Untethered
In 2006, Twitter and Facebook advertising launched. By 2008, nearly 80% of American adults had cell phones. That was the year both Apple's App Store and Android Market (later renamed Google Play Store) were released. By 2010, more than 60% of mobile phone users had made a purchase online using their device.
As cell phones became smarter, another game changer was just around the corner. A group of friends and former Paypal employees were disillusioned by the difficulty of finding online videos of Janet Jackson's wardrobe malfunction at the 2004 Super Bowl and of that winter's devastating tsunami. They created YouTube, and by the time it officially launched from beta in 2005, viewers watched 8 million videos daily. By 2009, users viewed YouTube videos 1 billion times each day.
It was the Wild West of digital marketing. We were turning to a new tool called CRMs to help us manage it all. Salesforce.com, for example, grew at such a rapid rate that it gained its one-millionth license by 2007. The Great Recession hit and made these trends and digital marketing tools economically useful.
Early 2010s: A Time to Rebalance
As data-driven marketing marched forward, we found that we needed balance in the force. Once again, we needed to be reminded of why we were chasing digital rainbows.
What was it all about?
Online shoe seller Zappos became our unlikely poster child with the answer. Tony Hsieh, who was still at the helm of Zappos at the time, answered that question in his book, Delivering Happiness: A Path to Profits, Passion, and Purpose. In it, he said that "open, honest communication is the best foundation for any relationship. But remember that at the end of the day, it's not what you say or what you do, but how you make people feel that matters the most."
Interestingly enough, TOMS Shoes was hitting its stride then, too. TOMS, founder Blake Mycoskie showed us how to build a for-profit business based on the premise of giving back. In this case: buy a pair of shoes, give a pair of shoes). Who knew such a thing was possible?
In 2011, we all had a chance to get into Steve Jobs' head through his exclusive biography by Walter Isaacson. In Jobs, we didn't find inspiration in the same altruistic way we found it in Hsieh and Mycoskie; instead, he was more cerebral. His vision of how we can and should interact with technology transformed user experience in ways we were only beginning to grasp.
"Jobs aimed for the simplicity that comes from conquering, rather than merely ignoring, complexity," Isaacson said in 2012. "He insisted on being able to get to whatever he wanted in three clicks. At one point [during the design of the iPod interface], Jobs made the simplest of all suggestions: Let's get rid of the on/off button. At first the team members were taken aback, but then they realized the button was unnecessary."
Mid 2010s: We Achieved Instant Gratification
"If there's one dominating trend to pinpoint in 2014, it almost surely is location-based marketing," declared ClickZ. CISCO reported that global mobile data traffic grew 81% in 2013 alone. The report also highlighted location-based mobile advertising as the wave of the future.
But true location-based marketing wasn't quite there. Some big things needed to happen first. Things like the Internet of Things (IoT), automation, and cloud computing. These innovations made huge headways by 2015, taking us to a new level of consumer instant gratification.
Suddenly, we could start geotargeting consumers without them needing to "check-in." And we could enlist the help of their phones, cars, and even appliances to do it. Snapchat (the king of instant gratification on social) hit it big in 2016, generating 10 billion video views per day. That same year it rolled out geofilters for parties, events and weddings.
We were cord-cutting at a record pace, which confounded advertisers. But we were also more connected to the world than ever before. Thanks to IoT, technology was all around us at all times, no matter where we went or what we did.
Late 2010s: We Sold Out
By the late 2010s—an era from which we're not far removed—we were using all this technology to buy and sell things. All the things. Leading the way was Amazon. In fact, Recode named 2017 the year of Amazon.
"We may look back at 2017 as the dawn of Amazon 3.0—one characterized by an all-out assault on retail's largest categories of food and apparel, a willingness to consummate blockbuster acquisitions, and the mainstreamification of a new computing platform built on our voice," declared Recode's Jason Del Rey, referring to Amazon's acquisition of Whole Foods and blossoming success of Alexa.
But it wasn't the end of small retailers. In 2018, consumerism also got tiny, with micro-influencers, crowdfunding, and affordable small business marketing technology leveling the playing field just a bit more.
We learned "as-a-service" models worked for products, too. Suddenly everything from our family meals to our toothbrushes and lawncare was delivered on a subscription basis. HelloFresh, Stitch Fix, and so many other product-as-a-service models popular by this time were founded around 2011. If you recall, IoT, automation, and cloud computing were just in their infancy then. As technology allowed, the services made more practical sense.
Where Are We Now? Marketing Lessons Learned
For 2021, we can look to the past for tips on weathering these uncharted waters. Why not:
It was Plato who once said, "Necessity is the mother of invention." As we entered a brand new decade, we knew that we'd be faced with unprecedented opportunities. We just may not have realized that many of those digital marketing moves would be made defensively.
What actions were you forced to make that ended up pushing your brand(s) forward in 2020? What marketing lessons have you learned? Where will that reactive maneuvering take us over the next year? The next 20 years?