The day you launch your website is the first day of your project.
Anne Stefanyk is Founder and CEO of Kanopi Studios, which designs and builds websites and provides digital strategy for clients interested in making a positive impact. The agency mostly works in the mission-driven space but also partners with corporate do-gooders.
Kanopi was born from Stefanyk's desire to build strong, sustainable and creative websites for clients in the nonprofit, higher education, government and corporate sectors. The name "Kanopi" comes from her passion for treehouses, which then seemed relevant to websites, as both are sustainable ecosystems limited only by creativity.
In this episode of Velocitize Talks, Anne Stefanyk shares her thoughts on Kanopi's holistic approach, the open-source community, enterprise WordPress, and personalization.
Whose Website is It? (1:24)
The design of websites has shifted away from IT and toward the marketing team; marketers are more the decision makers.
Website development used to be the realm of IT, as did the decision making process that accompanied it. Those decisions, however, are quickly becoming more marketing-based and content-driven. For agencies, this presents somewhat of a learning curve but also a distinct opportunity for all stakeholders.
Marketers and content creators have become increasingly autonomous in designing the look and feel of a website; this naturally frees up IT to focus on more technical aspects and provides both teams additional flexibility.
Enterprise Embraces Open Source (2:06)
The agility you have with WordPress is you can quickly and easily spin up sites, you can quickly and easily change content, and you can change the look and feel without a lot of cumbersome overhead.
An increasing number of enterprises and large corporations are turning to WordPress for their website and content needs. "The enterprise market is a lot more trusting of open source," says Stefanyk. WordPress has also grown exponentially in terms of market share and built-in scalability, and boasts a large collaborative community. Members are constantly developing and updating tools such as plugins and templates. Due to this flexibility, WordPress lends itself perfectly to localization and microsites.
Enterprise businesses were at one point concerned about open-source security credentials. However, as Stefanyk notes, even the U.S. Department of Defense Chief Information Officer encourages the use of open-source software, being in that market itself (as is the White House).
Site Redesign, Again and Again (3:23)
A website is a growing, evolving piece of technology and we believe that the day you launch your website is actually the first day of your project.
In order to succeed, websites cannot be static. Continuously improving upon your website and adapting it to changes is critical to showing up in a very crowded industry.
"I think a lot of marketers had this idea that if you build a website then in two or three years you should just rebuild it but that's a lost opportunity," says Stefanyk. For example, maybe it's time to upgrade your design theme or update other design elements. Beyond cosmetic changes, your website could need an overall optimization for speed and SEO. However, there's no need to scrap your entire site.
Growth Marketing (4:29)
People think they can set it and forget it. The biggest thing marketers do is either try to solve too many problems at once or they don't do anything at all and the site becomes stale quite quickly.
As any marketer knows all too well, there are many failed websites. But as Stefanyk says, "Most marketers have some type of north star." Adhering to your company's mission is a good thing, as long as you're doing so effectively.
One of the first goals of Kanopi is defining the individual client's idea of success and then breaking it down into manageable goals and timeframes from there. For example, Kanopi partnered with Sunnylands, a nonprofit which hosts retreats and diplomatic meetings between U.S. and foreign leaders, to grow their existing website into something more intuitive and user-focused. They also identified site navigation rework as one of the site's top priorities and created a navigation mega menu, as shown in the top menu on the above image.
Personalization Lite (5:23)
We always encourage our clients to take a "crawl, walk, run" approach. We don't want you to go and invest in some fancy personalization software.
Personalization is a good thing, except when it's too much, too soon. It can also mean many different things. But it doesn't have to be big. "A lot of the time, personalization can be as easy as helping people just self-navigate to the correct part of the site," Stefanyk says. For instance, is the site actually working for its target audience? Something as simple as a specialized email campaign can help significantly with overall personalization efforts.
Moving Forward (7:00)
The big word from 2020 forward has been "pivot." It has been this constant sense of adjustment so we need to be comfortable with being nimble and adapting to change.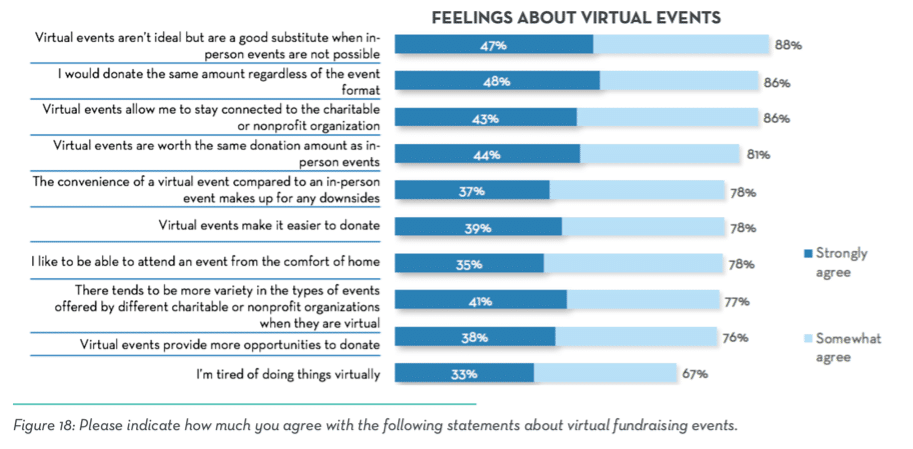 Virtual attendance replaced in-person events during the pandemic, especially among non-profits and cause-based marketing campaigns working on more modest budgets. Then came hybrid events. And now we're seeing the rollout of in-person once more. The digital-first experience, however, isn't going anywhere, says Stefanyk. Even if you're hosting an in-person event, you'll still need to create the right digital experience for registration and peer networking. For example, you'll want to send event attendees back to your website.
"As part of any digital experience, the website is part of a central piece of tooling and you want to keep that tool sharp in your shed," Stefanyk says. "If you do need to all of a sudden move in a certain direction, you have the agility and you can be nimble to make those changes."
Core Experience (8:17)
Complex animations and all of that fanciness looks really cool but is it going to weigh down on your performance?
Nothing beats speed. A consumer's attention span is notoriously low (as in, basically zero) so if a page doesn't load super fast, they're gone. Keep that in mind before you add large video files or oversized images, or anything else that can compromise speed.
This is especially important in relation to Google's updated Core Web Vitals, which ranks websites based on page load speed, strong SEO, and a smooth user experience. You'll receive a higher ranking in organic search based on so-called "page experience metrics." But that doesn't have to involve a huge amount of work.
"Sometimes just upgrading your hosting environment can make a huge difference on performance," Stefanyk says.
To learn more about Kanopi and read its case studies, visit their website and follow them on LinkedIn, Facebook and on Twitter at @kanopi_studios. To stay up to date on Anne Stefanyk, follow her on LinkedIn.